Saturday, April 17, 2021
Under the leadership of Pete and Cookie DeWire, the annual Spring clean up at Everyone's Playground took place with members of the Susquehanna University Men's & Women's Basketball teams and their coaches. Here are a few photos from the day's work.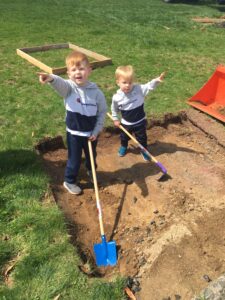 Jerry and Frankie Prusch, sons of Coach Mark Prusch

From left to right:
Kaitlyn Lynch (Sophomore), Sadie Comfort (Junior), & Tori Clarke (Sophomore)

From left to right:
Sadie Comfort, Olivia Brandt

Group of SU Men's Basketball Players
with Pete DeWire on the tractor

Pete and Cookie DeWire devote countless hours
to managing the caring for Everyone's Playground

Emmett (left) and Eli Jackson enjoy quality time at the Playground with their
Mom, Jena and Grammy, Diane Eshleman.