Former star Pittsburgh Steelers linebacker, Andy Russell and his wife Cindy, through their Andy Russell Charitable Foundation, have donated to Penn Township a limited-edition poster commissioned to commemorate the 75th anniversary of the founding of the Steelers organization and which came from Andy's memorabilia room at his Pittsburgh home. The framed poster also includes a photo of Andy standing in front of the poster and his personal 75th anniversary uniform patch.
In making the gift, Andy said "Cindy and I have come to love the Central Susquehanna Valley region and in particular Selinsgrove and Penn Township. Our involvement in helping create Everyone's Playground, located at the East Penn Township Recreation Complex, helped us decide to offer the poster as a further expression of affection for the community and a token that will continue to maintain our affiliation with the playground and Penn Township" Russell noted.
Jon Payne, Penn Township Supervisor's Chairman, indicated the poster will be hung in the lobby of the Township Building "… and will help promote Everyone's Playground to those who visit our offices and may not be familiar with the facility or its location. Andy and Cindy have been incredibly generous to Penn Township and we're enormously grateful for their thoughtfulness and continuing commitment to our community and especially those with special needs and other disabilities and cognitive challenges" Payne commented.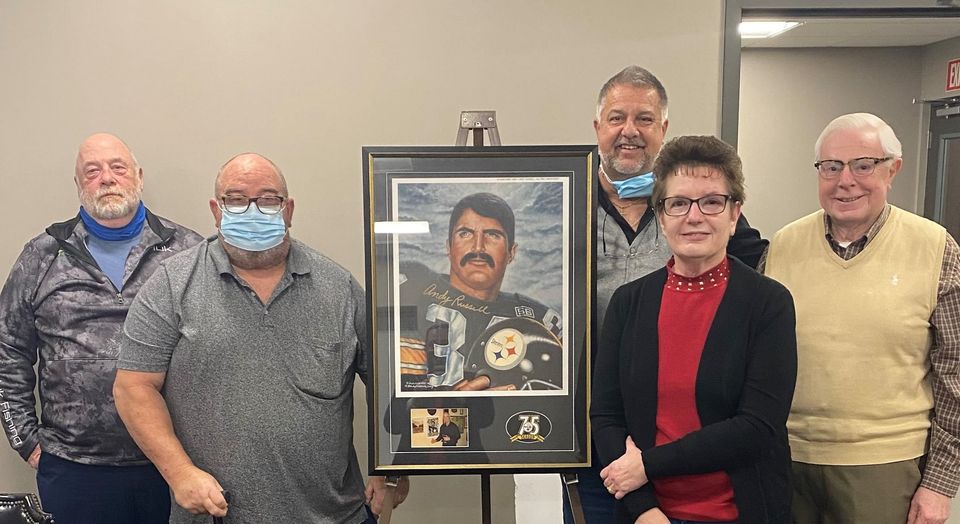 IN PHOTO: L – R: Penn Township Supervisor's Ross Smoker, Bill Moyer, Jon Payne, Chairman, Julie Harley, Penn Township Manager, and Fritz M. Heinemann, President, Russell Charitable Foundation, Central PA Region
Everyone's Playground, located at 875 University Avenue, East Snyder, is a specially designed playground to accommodate those with special needs, other disabilities, cognitive challenges, as well as typical individuals. "It's a family-oriented facility that provides safe play space for those with various challenges and also allows parents or siblings to participate in a fun and friendly environment" Cindy Russell commented. Officially opened in 2019 the Russell Charitable Foundation coordinated a fund drive that raised $500,000 in order to build the playground on land donated by the Penn Township Supervisor's.
"In a short period of time, Everyone's Playground has become a destination point for families from throughout our area and even neighboring states as it becomes widely known" Jon Payne said, "and we're thrilled people are visiting our community and making this a place of family fun and relaxation."