A special fundraising raffle, featuring a 52×32 inch framed NFL Super Bowl 47 Ticket Collection for the years 1967 through 2012, the six month use of a Certified Pre-Owned Subaru donated by W&L Subaru, an official Taste of the NFL Super Bowl helmet autographed by various NFL team members, a framed autographed photograph of famed Steelers steel iron curtain linebackers, Jack Ham, Jack Lambert and Andy Russell, and dinner for four at Isabella Ristorante, is being sponsored by W&L Subaru of Northampton.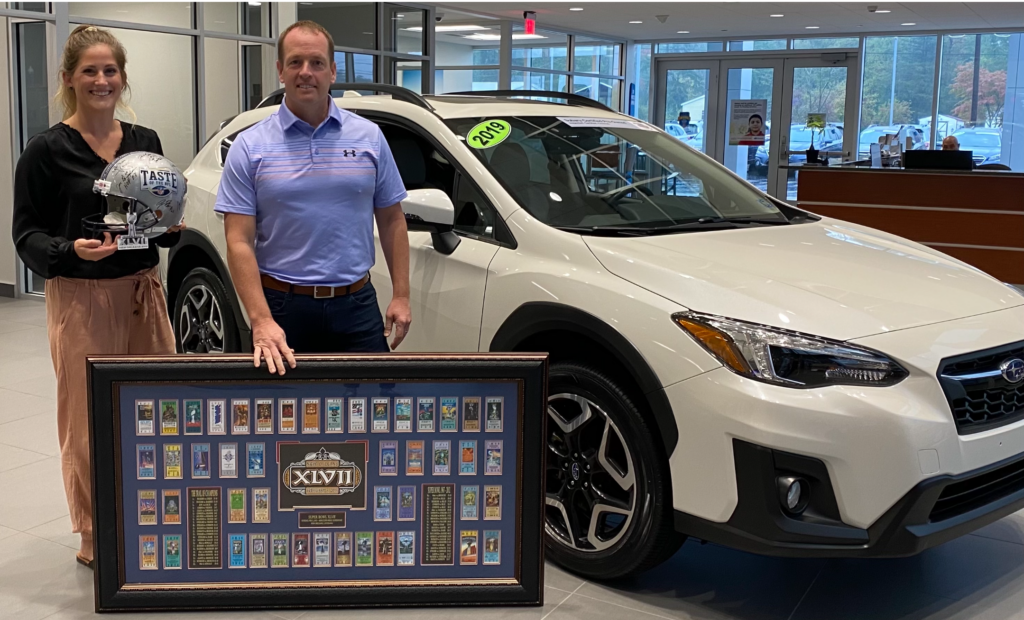 Co-chaired by Meghan Balum, Marketing Director, and Andy Long, Dealer Principal, W&L Subaru in Northumberland, proceeds from the raffle will benefit the current fund drive to construct a Comfort/Station at Everyone's Playground located at the Penn Township recreation complex on University Avenue, Selinsgrove. Opened in 2019, Everyone's Playground is a unique safe play space facility specifically designed for those with special needs, other disabilities and cognitive challenges, as well as for typical children and their families throughout the Central PA region.
"W&L Subaru, from the very beginning of the Everyone's Playground project, has been actively involved and as we now work to add a comfort station we want to continue our support and so by participating in this raffle a logical and proactive next step opportunity opens for us" said Andy Long. "When Meghan Balum, our Marketing Director, suggested we include the use of a Subaru for six months I immediately agreed thinking it would not only benefit the Playground but perhaps someone struggling during these difficult times. All that is required of the winner is a valid driver's license and proof of insurance. All of us at W&L are excited about the raffle and pleased it benefits such a wonderful cause" he commented.
Meghan Balum acknowledged the contribution of dinner for four at Isabella Ristorante and pointed to that as an example of community generosity. "When we approached Domenico Napoli, who owns Isabella, he immediately agreed and once again demonstrated the commitment of the business community to help insure the success of the fund drive campaign" she noted. Balum also acknowledged endorsement of the Selinsgrove Area Chamber of Commerce of the Comfort Station project saying their support was "enormously helpful and a further indication of the importance of adding Comfort Station facilities to Everyone's Playground."
According to Long and Balum only 34 tickets at $234 will be offered so the odds of winning are very favorable. "And, said Balum, "two tickets have already been sold and the buyers nave said they will return their prizes if they win which makes the odds even more positive."
All of the raffle items are on display at W&L Subaru, 535 Point Township Drive, Northumberland, where tickets are also available. Everyone visiting the showroom will be given an official NFL picture of Andy Russell, former star linebacker for the Pittsburgh Steelers, and donor of the NFL memorabilia. Tickets are also available by calling 570-428-5411. All proceeds benefit the current Everyone's Playground Comfort Station fund drive.
For Additional Information Please Contact Meghan Balum, Marketing Director, W&L Subaru @ 570-473-3432 ext. 355