To benefit the current Everyone's Playground Comfort Station fund drive, local realtor, Art Bowen (pictured below – R), has donated an official Taste of the NFL helmet to be raffled with only 13 tickets available. Each ticket will be $50 and may be obtained by contacting Fritz M. Heinemann @ 570-428-5411 or by email: [email protected]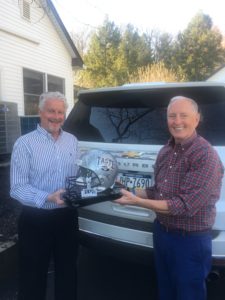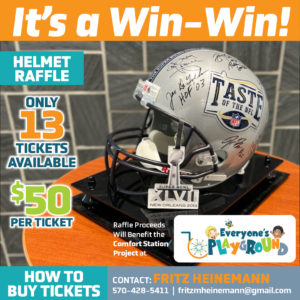 The helmet was originally donated to Everyone's Playground by former Pittsburgh Steelers star linebacker, Andy Russell, and his wife, Cindy. Established in 1992, Taste of the NFL is the annual purpose driven culinary experience at the Super Bowl, created to raise awareness  and funds to support hunger and food insecurity.
Taste of the NFL, one of the most popular philanthropic Super Bowl events, is an annual strolling wine and food event featuring a chef from each NFL city serving their signature dish alongside a current or alumni player. Guests can visit 35 food stations of fine cuisine and meet renowned chefs and NFL players, all while raising funds for designated Feeding America food banks in each of the 32 NFL team cities. Since 1992 Andy Russell has represented the Pittsburgh Steelers and has several times won the NFL Taste of the NFL helmet by raising more funds at his food station than any other team. He and Cindy always donate the helmet to a charity involving young people.
This helmet was originally won by a friend of Everyone's Playground who resides in Las Vegas. Last year, in support of the fund drive to construct an ADA compliant two person comfort station at the playground, the winner donated it back to help the cause. In a recent drawing Art Bowen won the helmet and decided to also donate it back to be raffled off again. Bowen presented the helmet to Mark Monaghan of Murray Motors both of whom are members of the local Andy Russell Charitable Foundation Advisory Council.
"The helmet is a remarkable piece of NFL history with numerous autographs of famous players some of whom are HOFer's or All Star Players. It's a terrific conversation piece, displays nicely, and always generates attention. For an NFL or Steelers fan this is a wonderful piece of memorabilia to add to a collection or own. It also makes the perfect gift for the right person" Bowen commented.
"With only 13 tickets available at $50 each the odds of winning are very favorable and all proceeds go towards the Everyone's Playground Comfort Station project" said Mark Monaghan, pictured above – L. For additional information visit www.everyonesplayground.com or email [email protected]