Former star Pittsburgh Steelers linebacker, Andy Russell and his wife, Cindy, through their Andy Russell Charitable Foundation, have donated to Penn Township a limited edition poster commissioned to commemorate the 75th anniversary of the Steelers franchise which came from Andy's memorabilia room at his Pittsburgh home. The framed poster also includes a photo of Andy standing in front of the poster and his personal 75th anniversary inform patch.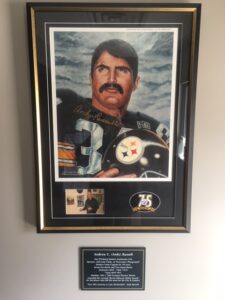 Of notable interest is the number 56 on Andy's left shoulder. Andy's playing number was 34 and 56 was the playing number of his closest friend and playing partner, Ray Mansfield. Andy and Ray were inseparable friends on and off the field and especially so after they each retired. Sadly, Ray passed away while doing what they both shared passionately, hiking. Ray was hiking the Grand Canyon with his children and simply sat down to rest and never awakened. Throughout the years Andy has continued to perpetuate the memory and legacy of Ray and one of the ways in which he did so was to have number 56 included on his anniversary jersey. Acts like that are the character of the man … and Andy is exceptional in his loyalty to friends and his generosity on behalf of others.
Jon Payne, Penn Township Supervisor's Chairman, announced the poster has been hung in the lobby of the Township Building "… and will help promote Everyone's Playground and expressed the gratitude of the Township for the generosity of Andy and Cindy for their love of, and commitment to, the citizens of Penn Township and the entire central PA region.
Everyone's Playground is a specially designed playground that accommodates those with special needs, other disabilities, cognitive challenges, as well as typical individuals. Officially opened in 2019 the Russell Charitable Foundation coordinated a a fund drive that raised $500,000 in order to build the playground on land donated by the Penn Township Supervisors.